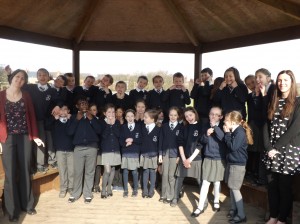 On these pages and via your learning portfolio you will be able to get all the latest news, find out what we've been up to in class and download the latest homework! Don't forget to check the Year 4 Blog regularly to keep upto date with everything that's going on.
Summer Term 2013 
Dear Parents,
We do hope that you and your family had a happy and peaceful Easter holiday. We are looking forward to the Summer Term. It will be a busy term as we still have lots to cover, but hopefully it will be an enjoyable one!
Next term we have the following trip planned:
Tuesday 25th June – visit to the CoventryTransportMuseum 'Friction In Action'. Time to be confirmed.
During the Summer term your children will be covering the following:
R.E.
Easter
Pentecost
Sharing in the role of Christ
Special roles and responsibilities.
Literacy
Sci–Fi stories
Biographies
Poetry
Instructions
Narrative and Non-Narrative writing linked to the Themed topic
Comprehension, spelling, handwriting and grammar.
Numeracy   
Place value
The four rules of number (multiplication, division, subtraction and addition.)
Fractions and Decimals
Using a calculator
Shape, Space and Data Handling
Problem solving
Science  
Friction
Circuits and conductors.
Themed 
The Egyptians including Egyptian Art
ICT
This is an integral part of all subjects, but the children will also be learning how to create a Podcast.
P.E.
Dance, tennis, golf, cricket and athletics.
Please ensure that your child has his or her kit in school on Tuesday and Thursday and, for their own safety, do not wear earrings or jewellery of any kind.
Music  
Homework will be sent home on Thursdays.  Occasionally homework will be given in other subjects as well, or instead. Please encourage your child to complete their work and hand it in on time. If there is a problem, please let one of us know.
Thank you for your continued support, it is very much appreciated.
Yours sincerely,
Mrs Michelle Fennell     Miss Hughes        Mr Rob Youson