Subject Lead:  Miss Maria Quinn [email protected]  
The curriculum for Art & Design at All Souls builds upon the programme of study outlined in the National Curriculum for England which can be found here. 
What is our vision for Art & Design at All Souls?
How do we achieve this vision?
Overview
Here at All Souls', we love embracing our creative sides and we aim to deliver a high-quaity art and design education that engages, insipires and challenges our pupils. We strive to equip our children with the skills and knowledge to invent, create and experiment with their own works of art, craft and design using a variety of media. We encourage children to think critically about art and to develop a more rigorous undertstanding to become a more confident audience of different forms of art. Our pupils also gain an appreciation of how art and design both reflect and shape our history and contribute to the cuture, creativity and wealth of our nation.
Subject Content of the National Curriculum
Key Stage 1
Pupils are taught:
to use a range of materials creatively to design and make products
to use drawing, painting and sculpture to develop and share their ideas, experiences and imagination
to develop a wide range of art and design techniques in using colour, pattern, texture, line, shape, form and space
about the work of a range of artists, craft makers and designers, describing the differences and similarities between different practices and disciplines, and making links to their own work.
Key Stage 2
Pupils are taught:
to develop their techniques, including their control and their use of materials, with creativity, experimentation and an increasing awareness of different kinds of art, craft and design.
to create sketch books to record their observations and use them to review and revisit ideas
to improve their mastery of art and design techniques, including drawing, painting and sculpture with a range of materials [for example, pencil, charcoal, paint, clay]
about great artists, architects and designers in history.
Here are some examples of our children in action and of the work that they have produced:
Year 5 Trip to the Herbert Art Gallery (Printing Workshop) May 2018:
Art work inspired by the sun in Year 6:
Year 6 visited SolarFest at Warwick University to learn about their research into the sun. This gave us some great ideas for a piece of artwork.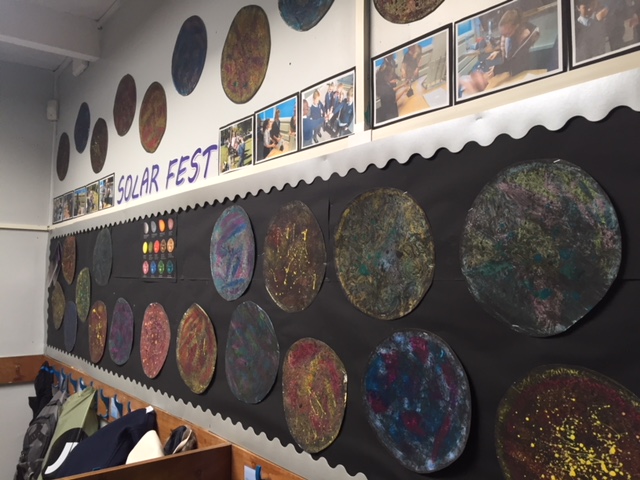 Still life and water colours in Year 4: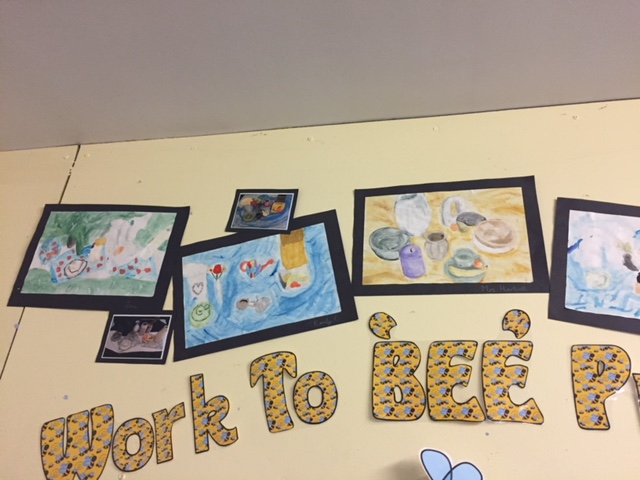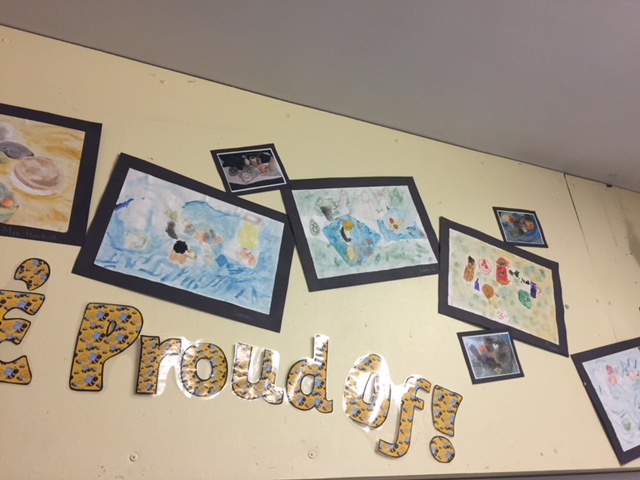 Year 2 – Pointillism inspired by George Seurat: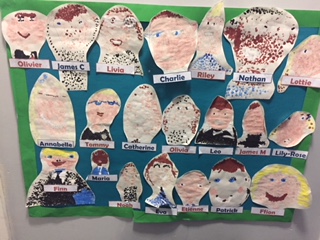 Experimenting blending colours in Year 1: