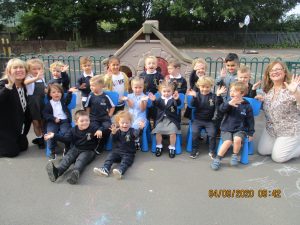 Welcome to Nursery!
We are really looking forward to working with you and your children this year. This term we are focussing on making friends and feeling secure in the environment.  It is important that we understand the rules and boundaries in Nursery that help to keep us safe especially in these times of covid.
In Nursery we learn through play.  We have short teaching sessions to introduce new ideas and then consolidate these skills and ideas through play.  We will be learning to count, order and recognise numbers and explore shapes.  In literacy we will be sharing stories, rhymes and poems. We also have daily phonics sessions during which we will learn our letter sounds and do lots of listening activities. Every Monday we will send home a 'Nursery Rhyme of the Week' which we would like the children to learn. We will be finding out about print in books and in the environment. Anything that we do send home must be kept at home and so unfortunately we are unable to send learning journals, rhyme packs, and library books home, as we normally would. We will also try to do as much learing outside as we possibly can so could you send your children dressed appropriately for the different weather and seasons.
P.E. will take place on a Tuesday so could you please make sure your child has a pair of pumps, a school P.E.T.shirt and a pair of shorts in their box along with a spare set of clothes and a pair of wellies for wet weather – all labelled with their name please.
Unfortunately, because of the strange times we are in, we are unable to do some of the activities we would normally do such as trips out to visit different places, library sessions with parents etc – hopefully things will return back to normal soon!
If you don't get the opportunity talk to us in the mornings or at hometime then please feel free to give us a call or send an email if there is anything you need to discuss.
We look forward to a busy and exciting year ahead!
The Nursery Team
Nursery Staff
Mrs Sarah Schofield – Nursery Teacher
Mrs Tracy McCloskey – Nursery Nurse