Hello and welcome to Year 5's webpage!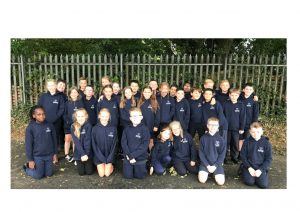 Summer Term Curriculum
English
Our text for this term is Street Child by Berlie Doherty which is inspired by the story of a Victorian child, Jim Jarvis, who finds himself fending for himself on the streets of London. He is helped by Dr. Barnardo.
In English, we are creating persuasive letters. We are focusing on using conjunctions and adverbs to link sentences as well as sharpening our proof reading and editing skills.
Maths
Maths objectives we will be covering this term are:
divide numbers up to 4 digits by a one-digit number using the formal written method of short division and interpret remainders appropriately for the context
estimate volume [for example, using 1 cm³ blocks to build cuboids (including cubes)] and capacity [for example, using water]
multiply and divide numbers mentally, drawing upon known facts
solve comparison, sum and difference problems using information presented in a line graph
complete, read and interpret information in tables, including timetables
identify, describe and represent the position of a shape following a reflection or translation, using the appropriate language, and know that the shape has not changed
R.E.
Our focus during R.E. lessons this term is Marriage and Holy Orders.
Science
In Science, we are investigating solubility and saturation. We will then move on to compare reversible and irreversible changes.
History
We are coming to the end of our Victorians unit by investigating the impacts of the Industrial Revolution.
Geography
We will begin the Geography unit 'Mountains'. The children will learn what a mountain is and how they are measured. They will learn about the structure of tectonic plates and how the movement of these forms mountain ranges. We will be looking at some key mountains from around the world and investigate how mountains can impact people's lives.
PE
Monday: American Football
Friday: Rounders
Don't Forget!
Reading Records are due in by Sunday evening via Google Classroom. You are responsible for reading 5 times through the week for at least 15 minutes.
Your spelling tests are every Friday . Make sure you remember to practise as much as you can!
You all have a Times Table Rockstars account, please try to access this throughout the week.
If you have any questions, please do not hesitate to contact me: [email protected]
Many thanks,
Ms Piercy and Mrs Kerry