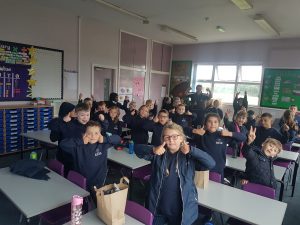 Welcome to Year Three!

Here you will be able to access the Year 3 Blog where you can get all the latest news from Year Three, find out what we've been learning and keep up-to-date with homework, trips and events! You can also access our Year Three gallery by clicking here.
Expectations for Year 3
We have high expectations for all of the children in Year 3 and we wish for all children to be the very best they can be. We expect all children to respect the Catholic ethos of the school. We ask that children will take every opportunity given to them to develop to reach their full potential and achieve their goals. Children need to come to school ready to learn and have their uniform labelled and the correct footwear. Most of all, we expect the children to be willing to learn and grow as individuals, working to better themselves both academically and personally. We will be pushing them to believe in themselves. All we ever ask in Year 3 is that everyone tries their best!
Autumn Term Curriculum
The curriculum has started slightly differently this year with more of a focus on the basic skills in spelling, grammar, reading, writing, arithmetic and times tables. We are having shorter bursts of these lessons more regularly to help remind children of their prior learning and fill any gaps they may have missed so that they can continue to make good progress. Over the last two weeks, we have completed lots of different challenges to see exactly where the children are in their learning and how we will best support them going forward. We are very lucky to have Mr Youson supporting us with our PE curriculum. We have PE every-day and we will be spending more and more time outdoors. Please make sure your child is wearing the correct clothes for the weather e.g. raincoat with hood, gloves, sunhat ect. We will be going outdoors in all weathers. In art we will be studying the work of Andy Warhol and looking his style of work. Our Science curriculum will continue as usual, starting this term off by exploring 'Rocks' and hoping to use the outdoor environment as much as possible to help us in this. In RE, Year 3 are looking at belonging and preparing for their next step in their faith journey. We are hoping to organise some outdoor trips soon to support us with different areas of our curriculum.
I am extremely excited about the year ahead and look forward to helping your child develop academically, socially, emotionally and spiritually. We will be having lots of fun along the way and I hope they will enjoy this year as much we are planning to. If you have any questions, comments or concerns that you would like to raise with me, please email me: [email protected]
Many Thanks,
Miss Hayden                                              Miss McGaffney
Year 3 Teacher                                             Year 3 TA