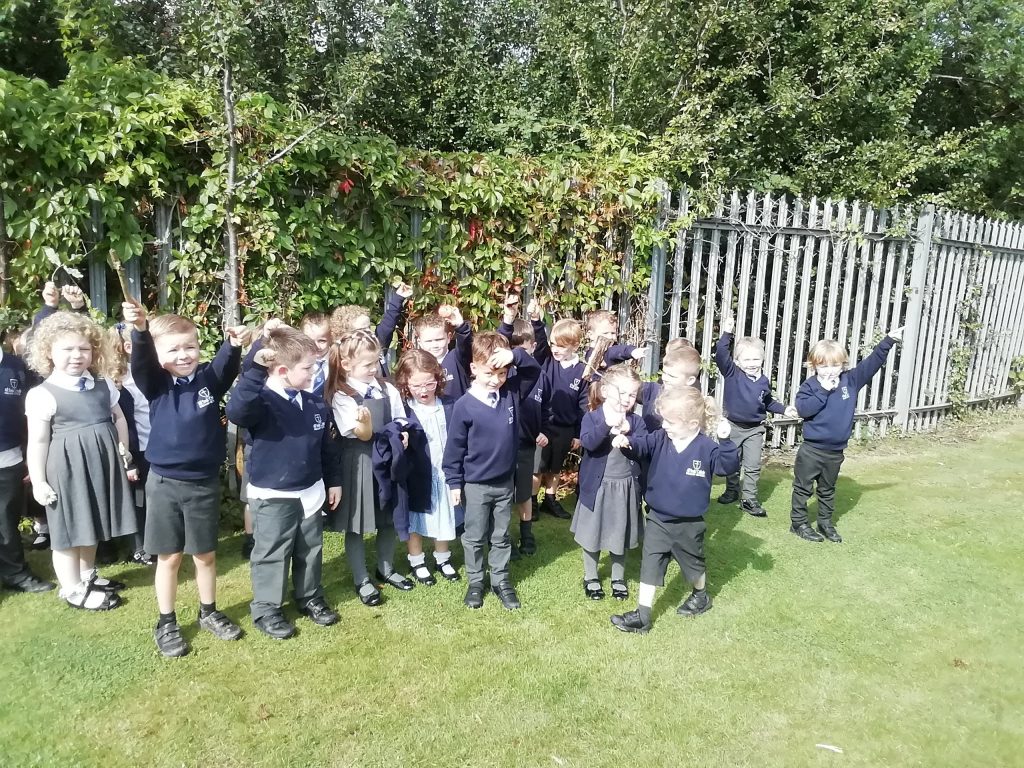 Welcome
This website and blog will help you to keep to date with everything we do in Reception. There will be information about the children's learning as well  as keeping you up to date with upcoming events and trips!
If you have any questions, you may find the answers you need below. If there is anything else you would like to ask or comment on, we are there in the mornings and at collection time.
Thank you for choosing All Souls School.  We are very excited to be working with you and your children, and are looking forward to an exciting year ahead.
Mrs Jilks
      Staff
Mrs Jilks – Class Teacher and Early Years Leader
Mrs Elkins –  Teaching Assistant
Mrs Swain – Teaching Assistant
Mrs McCloskey – Nursery Nurse
Some Expectations in Reception
We listen to each other – We expect our children to show respect for the adults and one another by listening to what they have to say and responding appropriately
We look after our things – We expect our children to show respect for our resources, as well as their own and other's property.
We always try our best – The activities we plan can be easy, when consolidating skills or knowledge, or challenging, when learning something new. Either way, we expect our children to try their best at all times, and we will support them as much as they need.
We always do as we are asked – We expect our children to listen attentively at all times and follow instructions, respond to questions and comments, and demonstrate a positive attitude to learning.
We have fun! –
Mathematics
We are working on numbers to 10.  We are consolidating number knowledge and making sure the children are secure in the basic mathematic concepts.  By concentrating on these the children will have a secure base on which to build on. The children will be counting, adding, subtracting and subitising.  Once these areas are secure we will move on to numbers to twenty.  We will also be looking at patterns, shapes, measure and time.
Literacy
We have a daily phonic session.  The children will learn 4 new phonemes (sounds) per week. The sessions will start with a recap of the phonemes  already taught and then will have a new one introduced.  We will read, write and use the phonemes to make simple CVC words.  I will put the phonemes we are learning onto the Reception Tapestry site and also the school Reception blog so that you can talk to your child about them.
We will be sending home the first nine words of our reading scheme.  We will be practising these in school but would be grateful if you could also work on them at home.  Their knowledge of these words will be used as a guide to which reading book your child will start on.  Your child will bring home a book every week on Monday and this is to be returned on Friday.
A change in our handwriting policy has been made this year and the children in Reception will first learn to form the letter shapes. Once the children can form the letters we will begin to introduce the cursive script.  This is to make it a smoother journey for them.  Please encourage your child to use lower case letters when writing their name with the initial letter only a capital.     
General information
We would like to take this opportunity to inform/remind you of some essentials!
Reception will be having PE/dance with Jade on Tuesday Morning. We will be doing this in our PE kit. Please provide PE kit, in a named bag, on their peg.
Earrings and necklaces are not allowed in school.
To help with replacing broken toys and equipment and to enable us to provide more exciting opportunities to learn, we ask that you contribute £1 per week. The pot will be on the bench outside Reception during morning drop off.
Children should arrive between 8.30-9.00am and be collected at 3.15pm. Please notify the school office is your child is going to be absent due to illness.
You may be wondering about the lack of stickers coming home, particularly if you have had children in previous reception classes. We now have a sticker chart system working in Reception. The children all have their own sheet with boxes to place stickers. On completion of the sheet they will get to pick a prize from the box.
If you have anything you would like to discuss with us please feel free to come and talk to us across the fence at the beginning or end of the day.  We would like to thank you in advance for your support and cooperation and are very much looking forward to working with you and your child.
Mrs Jilks
Reception Team
Dates for your diary
Reception Welcome Mass –  3rd October rd
Parents evening by Zoom – 18th/19th October
Half term – Monday 25th October – Friday 29th October
Cinema visit – 23rd November
Theatre visit -13th December