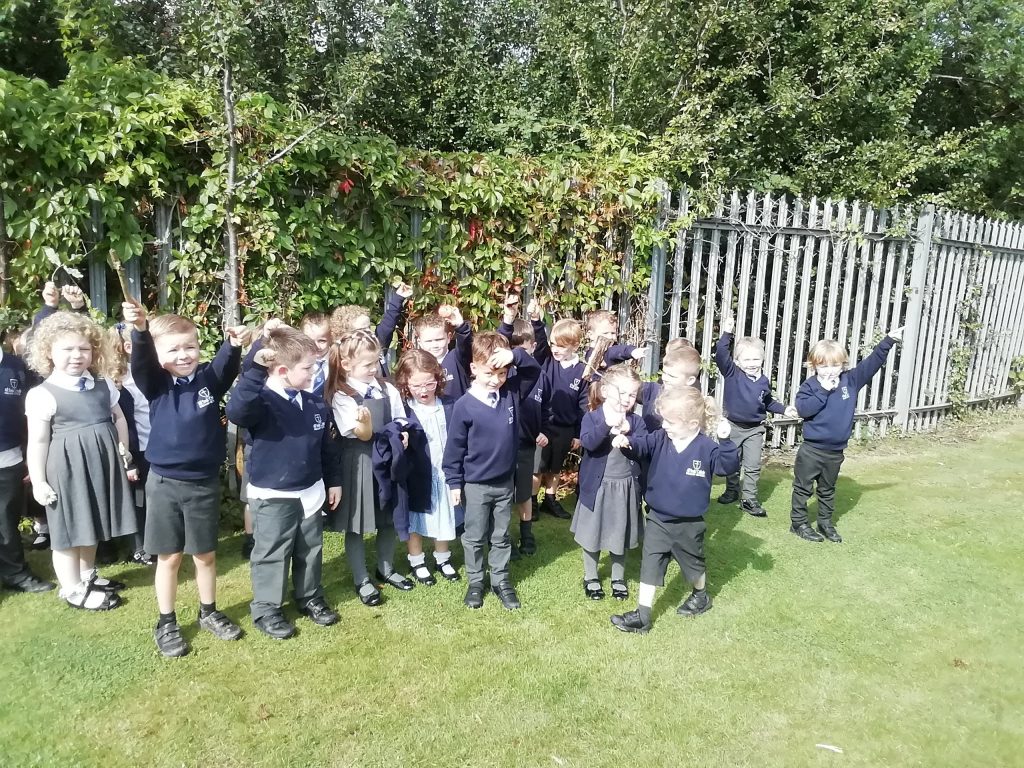 Welcome Back
We are looking forward to an exciting Spring Term
If you have any questions, you may find the answers you need below. If there is anything else you would like to ask or comment on, we are, as usual, available at the door, in the mornings and at collection time.
      Staff
Mrs Jilks – Class Teacher and Early Years Leader
Mrs Elkins –  Teaching Assistant
Mrs Kirrane – Teaching Assistant 1-1
Mrs McCloskey – Nursery Nurse
This term we will be focussing on Science and Technology through Traditional Tales.
Mathematics
We are working on numbers to 10.  We are consolidating number knowledge and making sure the children are secure in the basic mathematic concepts.  By concentrating on these the children will have a secure base on which to build on. The children will be counting, adding, subtracting and subitising.  Once these areas are secure we will move on to numbers to twenty.  We will also be looking at patterns, shapes, measure and time.
Literacy
We will continue with a daily phonic session.  The children will learn 4 new phonemes (sounds) per week. The sessions will start with a recap of the phonemes  already taught and then will have a new one introduced.  We will read, write and use the phonemes to make simple CVC words.  This term we will be sending home four words each week to practise reading, writing and spelling.   These words will help children to write sentences and are often the words you cannot sound out to spell.  Your child will continue to bring home a book every week on Monday and this is to be returned on Friday.  We appreciate the time you take to read these with your child and it really helps them to gain confidence in their reading skills.
We will be continuing to practise letter formation and encouraging children to become independent writers.  Please encourage your child to use lower case letters when writing their name, with the initial letter only, a capital.     
We will be reading some Traditional tales starting with Hansel and Gretel and then covering overs such as Jack and the Beanstalk, The Three Little Pigs and The Three Billy Goats Gruff.  We will be looking at the characters and settings in each story and discussing the  structure of the stories.
General information
We would like to take this opportunity to inform/remind you of some essentials!
Reception will be having PE/dance with Jade on Tuesday Morning. We will be doing this in our PE kit. Please provide PE kit, in a named bag, on their peg.
Earrings and necklaces are not allowed in school.
To help with replacing broken toys and equipment and to enable us to provide more exciting opportunities to learn, we ask that you contribute £1 per week. The pot will be on the bench outside Reception during morning drop off.
Children should arrive between 8.30-9.00am and be collected at 3.15pm. Please notify the school office is your child is going to be absent due to illness.
reception children can take part in running club on Wednesday morning.
If you have anything you would like to discuss with us please feel free to come and talk to us across the fence at the beginning or end of the day.  We would like to thank you for your support  during the past term and are very much looking forward to continue working with you and your child.
Mrs Jilks
Reception Team