At All Souls we work with staff, pupils and parents to create a school community which values the use of new technologies in enhancing learning, encourages responsible use of ICT, and follows agreed policies to minimise potential e-safety risks.  We also educate children so that they know that there are risks associated with the use of technology and give them strategies and processes to follow should they ever encounter these risks.  We also encourage and educate children to use technology in a positive and constructive way, treating others with the same care and respect as they would like to be treated themselves.
Members of staff responsible for online safety: Mrs Quinn/Mr Cooke
In compliance with guidelines issued by the DfE, All Souls ensures that web content is filtered so that offensive, malicious and inappropriate material is inaccessible through out networks.  This is achieved through Smoothwall web filtering and security solutions.  All Souls also monitors all computer and Internet activity using Impero Education Pro.
We understand that no filtering or monitoring system is 100% effective and so educating children and families is our most important means of keeping our community safe.
Online safety plays a crucial part of all computing lessons and from children's very first computing lessons in Year 1 we introduce children to the Surfer Sam materials, messages and posters, which are then on display in our learning hub and around school.
Children are taught how to search safely and effectively, how to respond should they come across any material that is offensive or upsets them, and our older children are taught how to report offensive material.  This can be done by using the CEOP Website Reporting Button:

In addition to the embedded part of online safety into our Computing curriculum, class teachers also deliver a specific Online Safety/Digital Literacy curriculum using materials from the SWGfL.
This is organised as shown in the curriculum overview available here.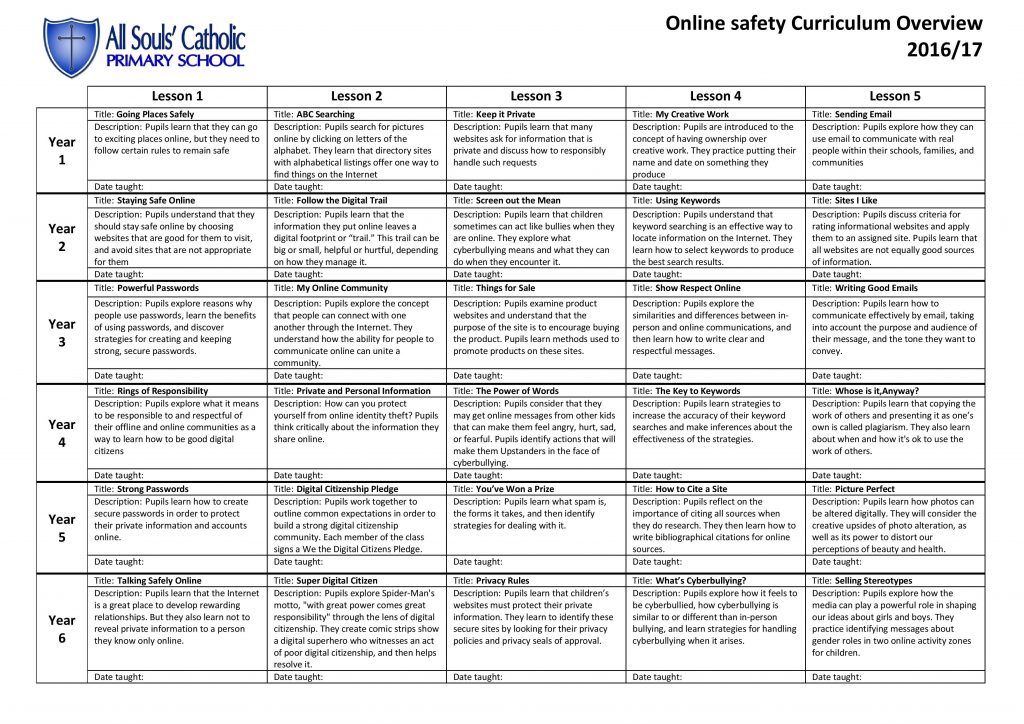 This curriculum is taught during the Spring term in the lead up to Safer Internet Day which we celebrate at All Souls as Safer Internet Week, during which children complete tasks and mini projects around the safe use of the Internet.
Our current school policies relating to e-safety are available below:
Review of Online Safety:
In order to review and ensure that our Online Safety practice and procedures are up-to-date and effective we regularly use and review our processes using the 360 degree safe e-safety self review tool.  Our latest review indicates that we are very close to full accreditation level.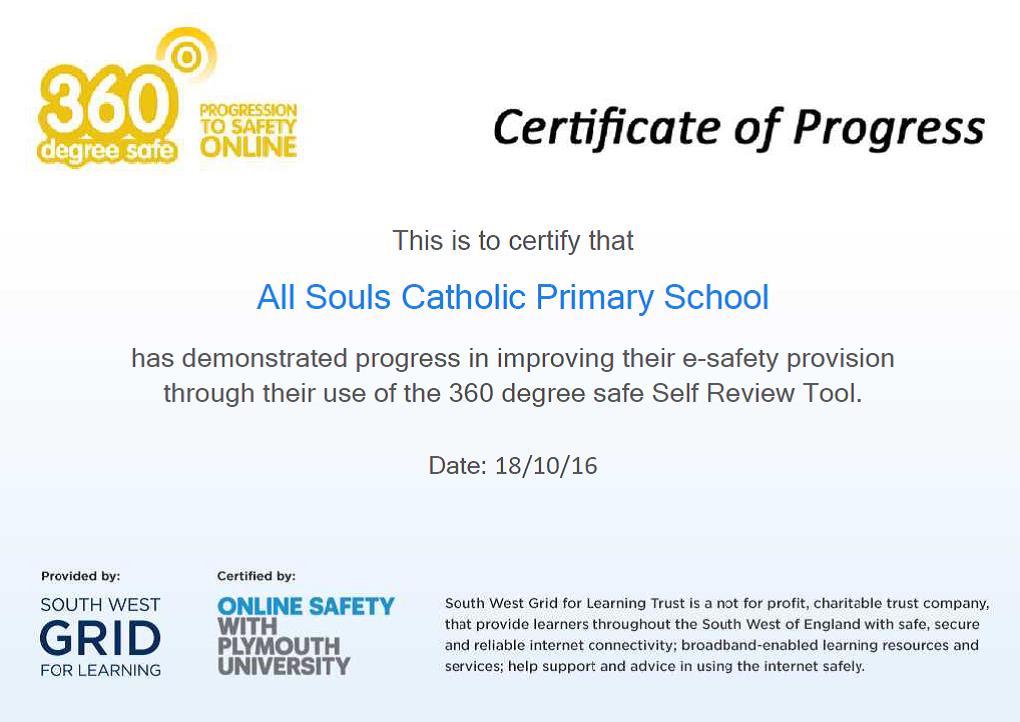 Resources for Parents:
Below are some of the resources, including the slides from the presentation shared at the online safety evening for parents (30th November 2016).
Below is a sample of feedback received from parents following our online safety evening: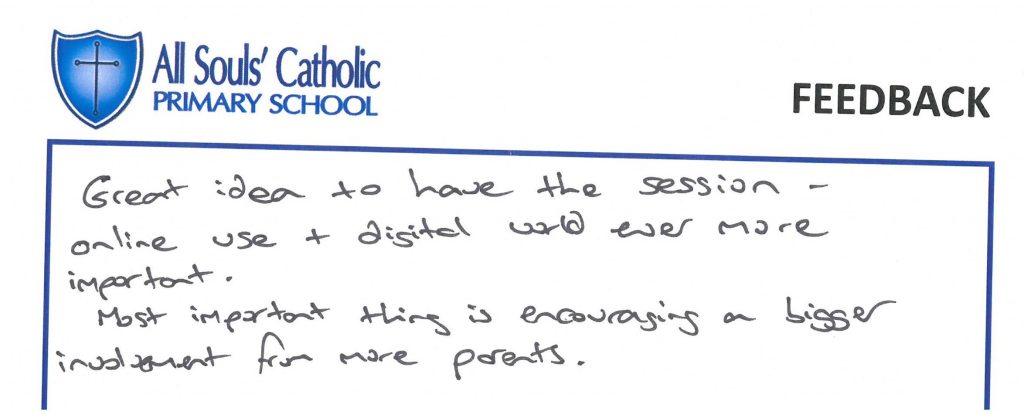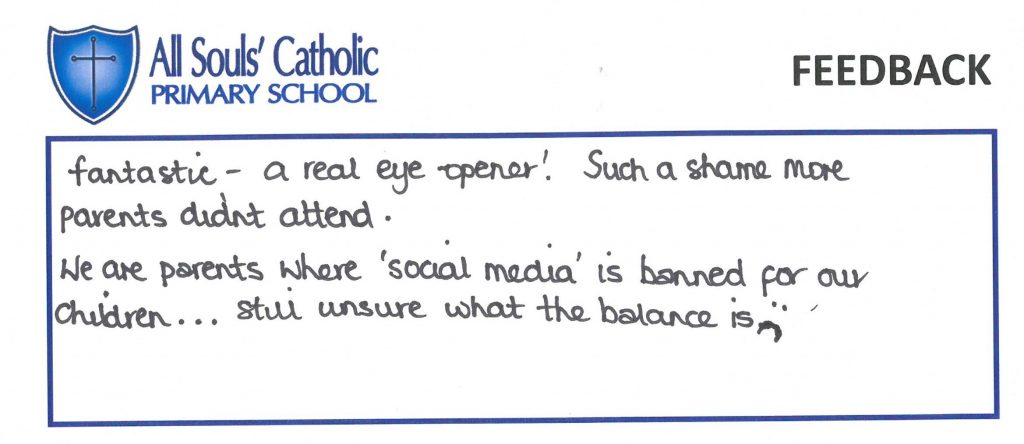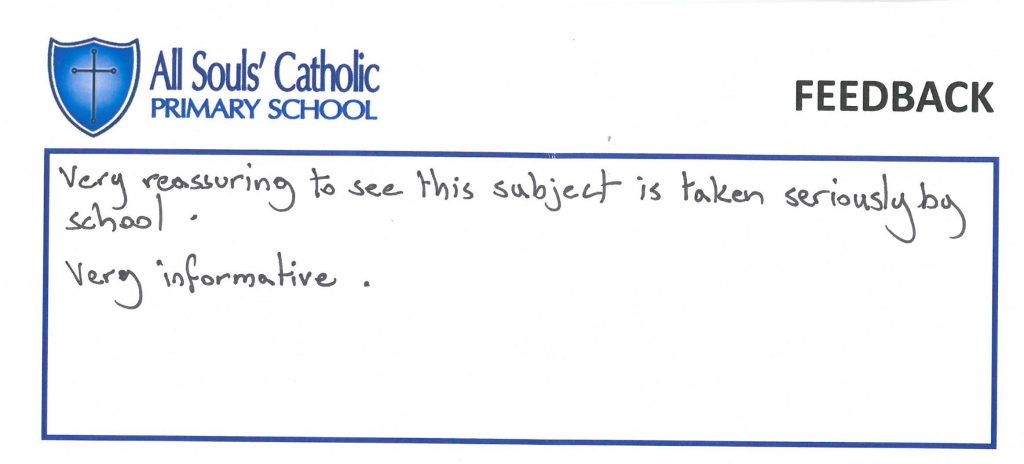 The following pages and websites may be also be useful to parents in helping to become better informed about Internet Safety and in ensuring that their children remain safe when using technology at home.